My Roof, My Roof, MY ROOF IS ON FIRE!!!
So Sunday I decided to cook my wife and I Oso Buco and have a nice night in with a nice warm fire in our fireplace. Well, the meal turned out really well and the night seemed to be a nice stay at home date night. Then it all changed…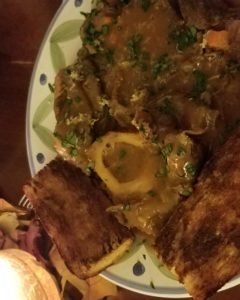 At 11:15 my wife headed to bed and mentioned how the house had gotten a little smokey from the fireplace. I noticed a little but figured it was just because it was the first time we had used the fireplace and the smell of dinner had gone away.
About 15 minutes later someone rang my doorbell a bunch of times. I got up and realized it was my neighbor. He asked if I had a fire going, I said yes and he said we had a problem, the chimney was on fire! I ran out saw the flames and called 911! 
Gotta say thank you so much to the awesome Firefighters from Station 15, Station 20, and the Sacramento Fire Reserves who showed up in what felt like less than a couple of minutes. They sprang into action, got on the roof, ripped apart the chimney and got the fire taken care of before it could do any real damage.
As they turned the hoses on the fire, these amazing firefighters even moved my belongings out of the way to avoid any more damage! Their quick action not only saved my place from going up in flames, but saved my record collection, furniture, and other belongings!
 As of now, there is no set cause for why the chimney caught fire. But I do know that without the quick response and actions of these brave men and women, it could have been so much worse. So I would just like to send a HUGE thank you to the brave men and women who were there for my neighbors, my family, and myself last night. They really are the real heroes.